Though we talk about "digital transformation" incessantly these days, the truth is that it's been going on for a long time, and the result can be a little bit messy. For years, managers and business owners have known they needed to implement automated digital processes, and over time many organizations have digitized line of business operations on an ad hoc basis. Technology is available for every department:
Human resource systems for expense reports, benefits administration, and timekeeping
Marketing applications for website hosting, social media management, and email marketing campaigns
Supply chain utilizes warehouse and inventory management software
Accounting runs on accounts payable and receivable applications
Sales and customer support manage customer portals and e-commerce platforms
The list is nearly endless.
The result is often a disorganized jumble of software and cloud applications that employees have to toggle between, using different login credentials and user workflows for each. Trying to keep all of an organization's data organized and up to date using these disparate systems is resource-intensive, eating up man-hours and the business's IT spend at dizzying speeds. Most importantly, the customer experience (CX) often suffers. In an age where consumers have grown to expect instant gratification and a seamless CX, hiccups, or mistakes due to IT system mismanagement, can be fatal to an organization.
That's why the customer relationship management (CRM) sector has exploded in recent years. What used to exist in manila folders labeled by customer is now housed in electronic form, and organizations have come to lean heavily on their CRM systems. But when those systems don't talk to other business applications, companies still can be in real trouble. Customers today have so many options that they don't have to put up with ordering errors, unresponsive customer service reps, or sales teams that fumble around trying to keep all their prospects straight.
Business leaders know something has to give, but with dozens of different solutions promising that elusive "single pane of glass," and faced with vast troves of data — often collected over the course of years — many managers don't know where to start, or if the cost of overhauling and integrating internal systems will really pay off.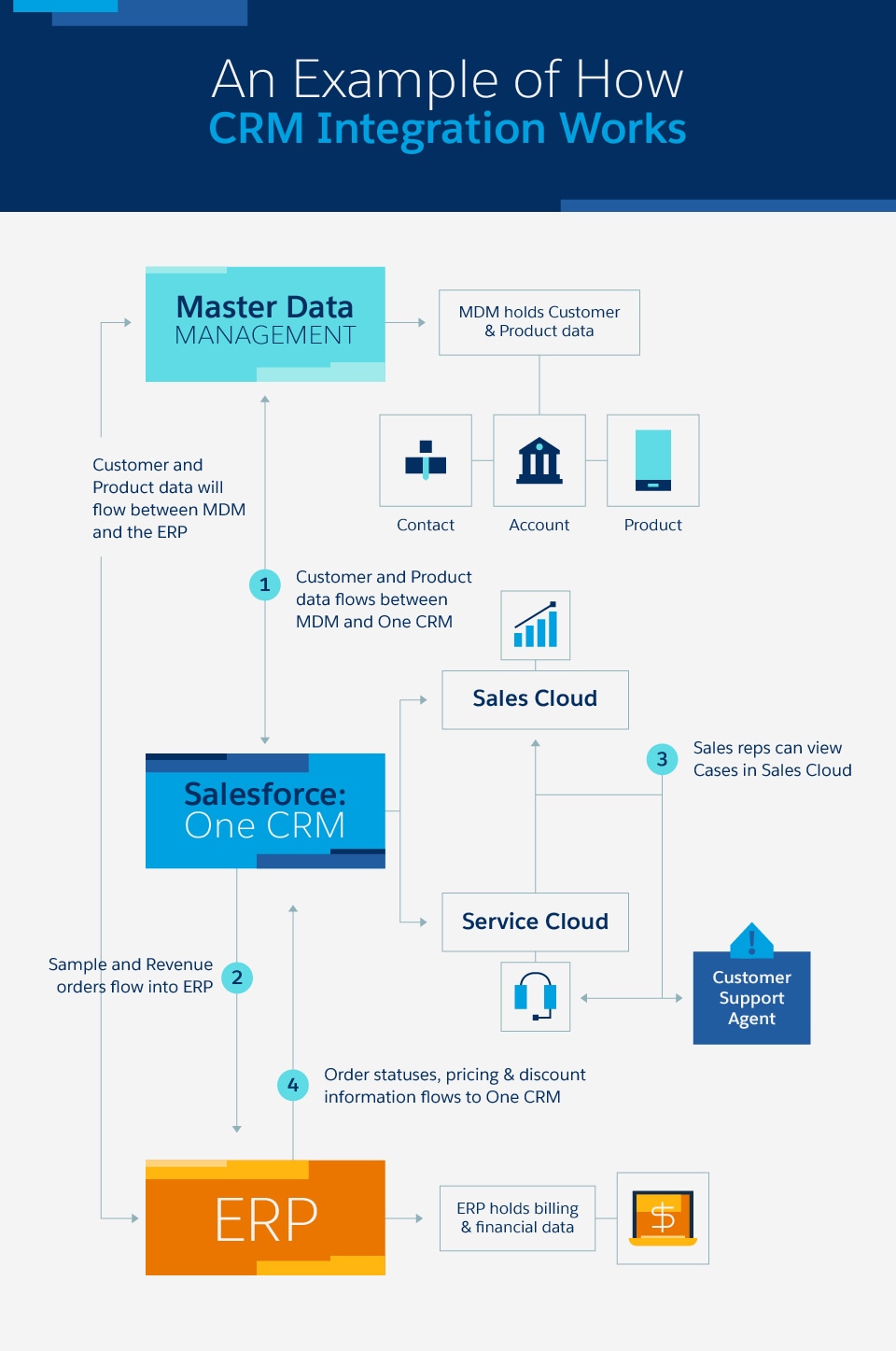 An Example of How CRM Integration Works
There are any number of combinations of CRM platforms integrating with other business software. In this example, a company is using Salesforce CRM platform with Sales Cloud and Service Cloud. Data from customer support agents are input and organized in Service Cloud, and sales reps can view customer service cases in Sales Cloud. Because salespeople can see what's happening in customer service, they can use that information to serve customers better.
This business also uses a master data management platform (MDM), which holds customer and product data. Contact information, account details, and product data flows between the MDM and CRM platforms.
A third piece of technology this company uses is an ERP, or enterprise resource planning software, where the company's billing and financial data is stored. When the ERP and CRM platforms are integrated, sample and revenue orders are automatically updated in the ERP; and order statuses, pricing, and discount information populates in the CRM platform. Furthermore, customer and product data flows between the MDM and the ERP.
All three platforms organize vital business data, and with integration, they work together to give all members of the business a real-time view of customers, products, and orders.
CRM is More than Just a Sales Database
Most managers are familiar with the big-name CRM providers, and you'll be hard-pressed to find any salesperson worth their salt who hasn't worked with one or more of these platforms. Every touchpoint a company has with a customer or potential customer can be documented, stored, organized, and mined to assist with sales and customer support initiatives, from qualifying a sales lead to sending valued customers holiday cards.
Looking at CRM software or services just as a customer management tool, however, can be shortsighted. In fact, CRM solutions are useful for logging any interaction an organization has with anyone who represents a valued relationship. Taking this view, a CRM platform can be leveraged to manage all kinds of connections, from media contacts to vendor relationships to employees. Technicians can track help tickets. Marketers can keep track of digital campaigns. CRM platforms can even keep track of what competitors are up to, such as where they've been advertising or which big accounts they've recently landed.
But CRM software can only effectively deliver results when it communicates freely with other business process management software, such as enterprise resource planning (ERP) platforms or content management system (CMS) applications. Since in many, if not most, cases these applications come from different vendors, are built on different code, and have different user workflows, getting them to talk to each other can be an overwhelming task. 
If you've acknowledged you need to tackle a CRM integration project, and you're feeling underwater, you aren't alone. It's often a complicated, drawn-out process, and sometimes the cost of the project winds up being more than the cost-savings it returns. The first step to beginning such an undertaking is to understand just what 'integration' means in terms of a CRM.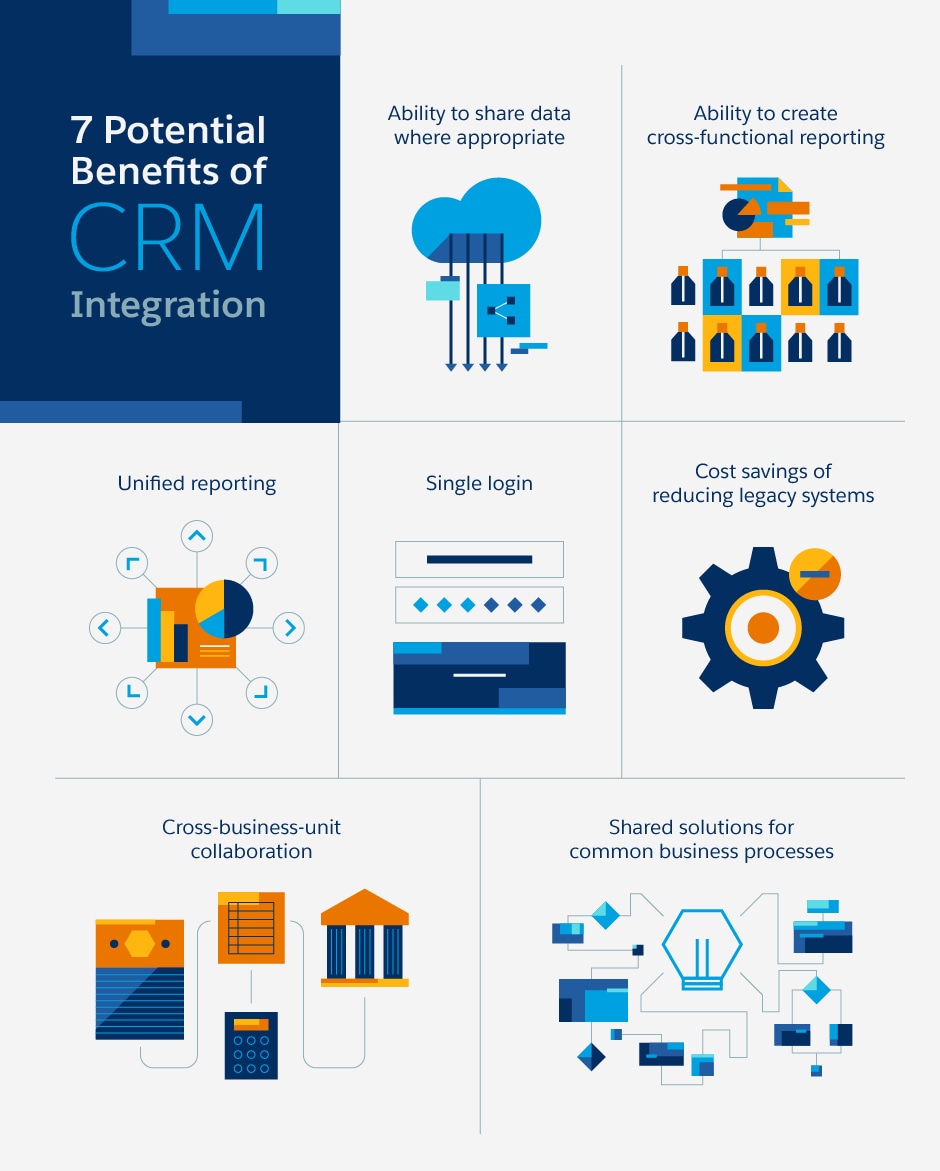 7 Potential Benefits of CRM Integration
Going through the process of CRM integration may be time-consuming, but your company may see some (or all) of the following benefits:
Ability to share data where appropriate
Ability to create cross-functional reporting
Unified reporting
Single login
Cost savings of reducing legacy systems
Cross-business-unit collaboration
Shared solutions for common business processes
"Interfaced," Not "Integrated"
Just as managers have to expand their idea of a CRM's capabilities beyond customer management, project managers responsible for a system integration should make sure they truly comprehend what such a task entails. Often, the technical challenges can be so extensive that it's easy to lose sight of the bigger picture. The goal is a happy, seamless user experience; the integration is, in essence, just a means to that goal.
When you think "touchpoint," don't stop at where the applications meet on the network; instead, sit down and map out everywhere a stakeholder interacts with the platforms you want to interface. If a potential buyer clicks through to your website from a paid ad, what's the ideal next step? Let's say you want that prospect to receive an email communication with a customized call-to-action. Just that process alone requires your website CMS to communicate with your CRM, which then shoots instructions to your marketing automation platform to deploy the email.
Maybe a supplier sends you an invoice, and you want the transaction recorded, payment automatically issued, and your ordering history mined to predict when you'll need to place another order and what the associated cost will be. There you have, at minimum, an ERP, CRM, and cognitive forecasting tool that all need to work together.
If your organization hosts a booth at a trade show and collects contact information from attendees, you want automated follow-up communication, as well as something to calculate the true cost per lead after taking into account the cost of attending the expo. If the ROI on the event is worth it, you'll want to ensure you're registered and have a good spot next year, so following up with the event coordinator or public relations representative with a thank you and an inquiry about future opportunities is key. I'll let you count how many platforms you think that entails.
The point is that it isn't just data that you're integrating; it's an entire experience. Your ERP and CRM should be able to sync fields, but your employees should also be able to switch back and forth without logging in and out repeatedly — so you need a single sign-on. If accounting is making changes to a customer record at the same time as sales, you need a way to make sure workflows are integrated to avoid duplication or errors. Finally, you want your valued relationships to be able to navigate the system with ease, using as few clicks as possible to get where they're trying to go.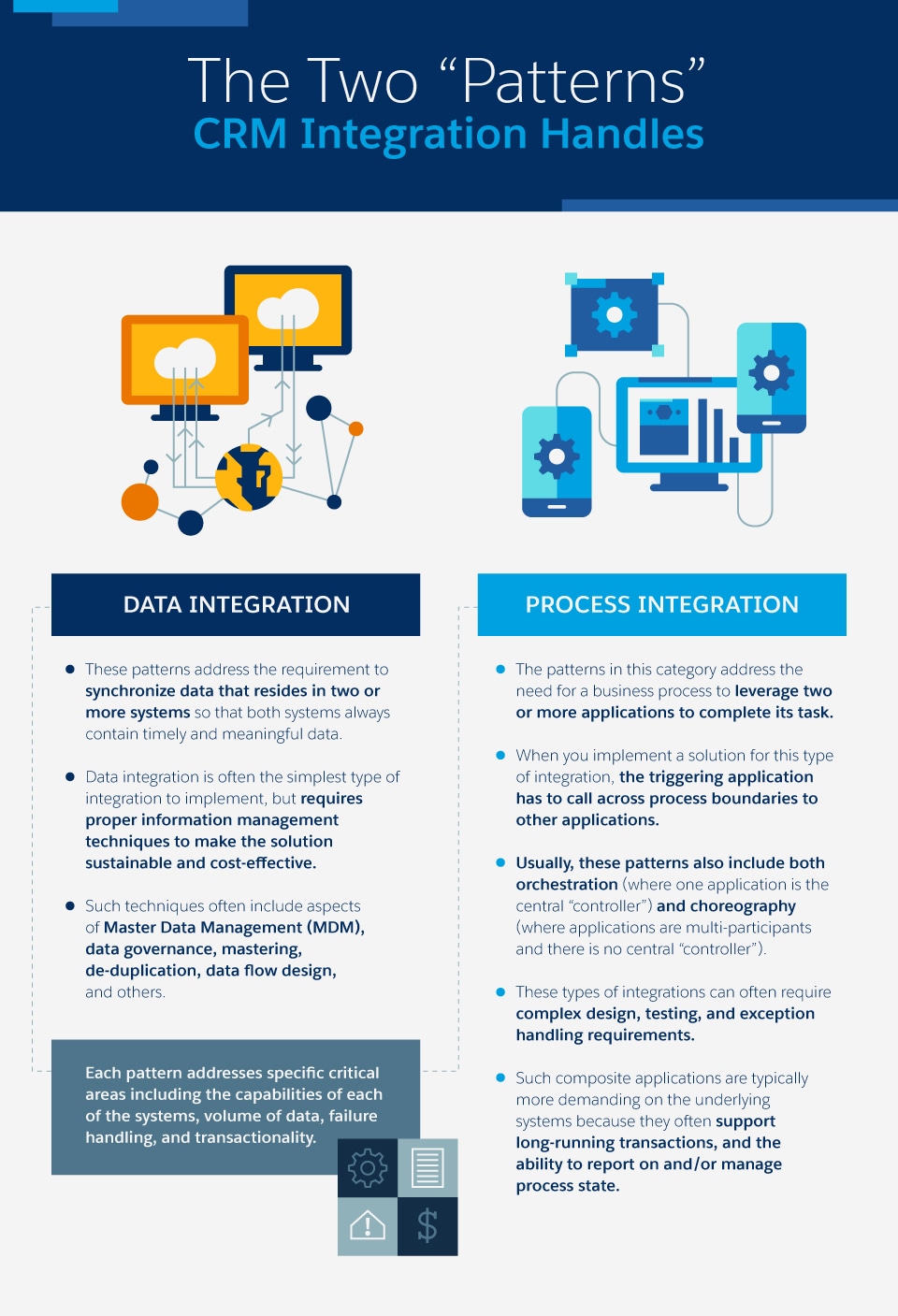 What to Keep in Mind with a CRM Integration
If this all sounds painfully complex, there are a few big-ticket tasks you can start with that will give you a base knowledge of what your needs are and the best way to meet them.
Who should manage it?
Do you have the talent in house to handle such a big project, or would it be more cost-effective to outsource it? Whether you keep the integration internal or bring in help, it's critical to make sure you have someone with experience in this area who can lead the charge. Keep in mind that just because you've managed tech projects before doesn't mean you're equipped to deal with the nitty gritty technicalities that come with an integration. Keep your eye on the big picture, and delegate the details.
What do you really need?
Without looking at the functionality that your current solution or anything else on the market provides, list the most critical capabilities you need following an integration. Then do your research to see what fits the bill when it comes to features and services. Don't get sucked in by vendors and products advertising dazzling, cutting-edge capabilities that you won't use. At the same time, make sure you look a few years into the future and try to forecast how your needs may change. Will you need more seats? More flexibility in who has a login? Automatic and free upgrades? Make sure the solution you choose has the built-in elasticity to handle your evolution.
How will you stay compliant and secure?
Watch out for security and data protection regulations. HIPAA, PCI, SOX, and GDPR aren't acronyms any organization should take lightly. Even if you're in a rare sector that isn't heavily regulated, it's a very good idea to bet on stringent data privacy mandates coming your way soon. You need defined audit trails, user security, and crystal-clear maps of where your customers' data is residing. You should be able to find a compliance rating for most commercially available CRM platforms, so make sure you do your research. And it's critical your contract specifically states that your organization owns and has on-demand access to your data. It's not uncommon for some vendors to hold your information hostage if you ever want to move to another provider.
What is your integration budget?
Before you commit, team up with your finance department and figure out the true total cost of ownership. On-premise solutions are often riddled with hidden costs because of the associated hardware. You'll need someone to install it, somewhere to store it, someone to maintain it, and energy to power it. Whether hosted in the cloud or housed on-prem, any process management system comes with costs for training employees, paying for certifications, and sometimes upgrading the application. Make sure you have a comprehensive understanding of what you're getting into.
The good news is that once the integration is complete, the new capabilities can power your organization through its next evolution. You'll reduce errors, save money, and increase service levels. Integrating your CRM software with other systems is a big commitment, but a necessary one if you want to compete in a digitally transformed landscape.